The Joy Factory aXtion Pro M Surface Pro Case
The aXtion Pro M Case for the Surface Pro 7 | 6 | 5 | 4 is designed to provide unparalleled protection in the most unpredictable environments. From oil rigs to medical clinics, this case maintains the longevity of your tablet while on the job.

This rugged case is military-grade shockproof certified (MIL-STD-810G) and waterproof with an IP68 rating. This case maintains access to the auxiliary, USB, and charging ports and volume and power buttons. This sturdy case is built to protect your tablet against water, dust, sand, and any other external particles. For extended usage, this case features built-in heat-dissipating technology. The case can be tethered using a cable lock attached to an immovable object, making this case ideal for public spaces.

Built with MagConnect technology, this industrial grade case is also compatible with any MagConnect mount. You can also remove the MagConnect mounting plate, making the case compatible with any VESA 100 mounting system via the four available screw holes. To increase mobility, optional accessories include the Universal Carrying Handle and Shoulder Strap.
Compatible with Surface Pro 7 | 6 | 5 | 4
Case has IP68 waterproof rating and is military-grade shockproof certified (MIL-STD-810G)
Compatible with Kensington Cable Lock for increased security against tablet theft
Built-in heavy duty screen protector and port and button covers
Heat dissipating technology to increase airflow within case and reduce overheating
Built with MagConnect technology for easy mount and dismount to any MagConnect mount
Case has removable mounting plate to allow mounting to any VESA 100 mounting system via 4 screws
Maximize mobility with these optional accessories: Universal Carrying Handle and Shoulder Strap
Case Specifications
Dimensions: 13.12" X 9.71" X 0.87"
Weight: 1.53 lbs.
Waterproof Rating: IP68
Shockproof Rating: MIL-STD-810G

Product Features
1. Security Lock Port
2. Front and Rear Facing Camera Lens Covers
3. MagConnect Mount Adapter
4. VESA 100 Compatible
5. Molded-In Buttons
6. Universal Shoulder Strap Port
7. Headphone Jack Cover
8. Built-In Heavy-Duty Screen Protector
9. Port Covers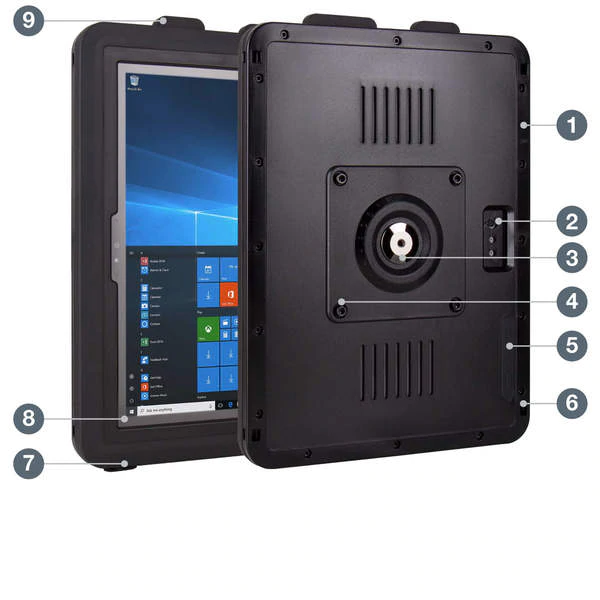 | | |
| --- | --- |
| SKU | CWM309 |
| Brand | The Joy Factory |
Express Shipping - $27.50

Be The First To Review This Product!
Help other SLATE PC Pty Ltd. users shop smarter by writing reviews for products you have purchased.
Related Products
Product History